INSTRUCTORS TEAM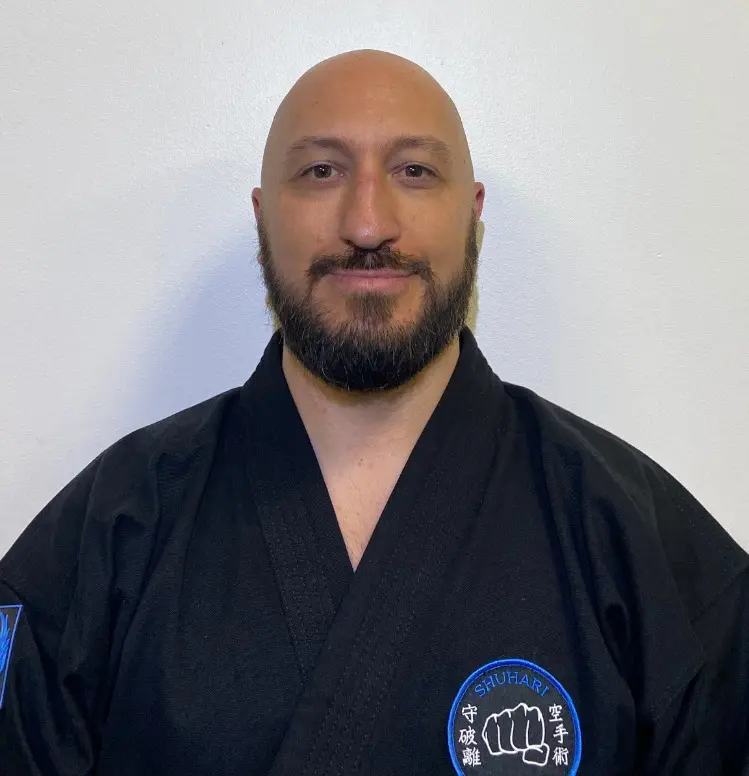 Olgun Tiltay
Chief Instructor
Grade
5th Dan Black Belt (British Combat Association, Peter Consterdine)
Favourite Technique
Haito
Favourite Quote
Fall seven times, rise eight.
Bio
Olgun has been studying martial arts and self defence since 1998 as a student of multiple disciplines, and since 2003 he has been a full time martial arts instructor. He teaches the Shuhari instructors class and is the senior grading assessor for our club. He has a strong group of dedicated students and as the chief instructor he enjoys teaching pragmatic close quarters combat techniques, impact, conditioning, contact sparring, vertical grappling and board breaking. He is a serious student of both Jutsu and Do. His experience as a door supervisor has given him the chance to understand the practical nature of physical technique as well as the psychological and legal aspects of self defence and conflict management. Olgun is on a mission to help people deal with bullying through the physical skill, confidence, and personal development that martial arts training brings to the student.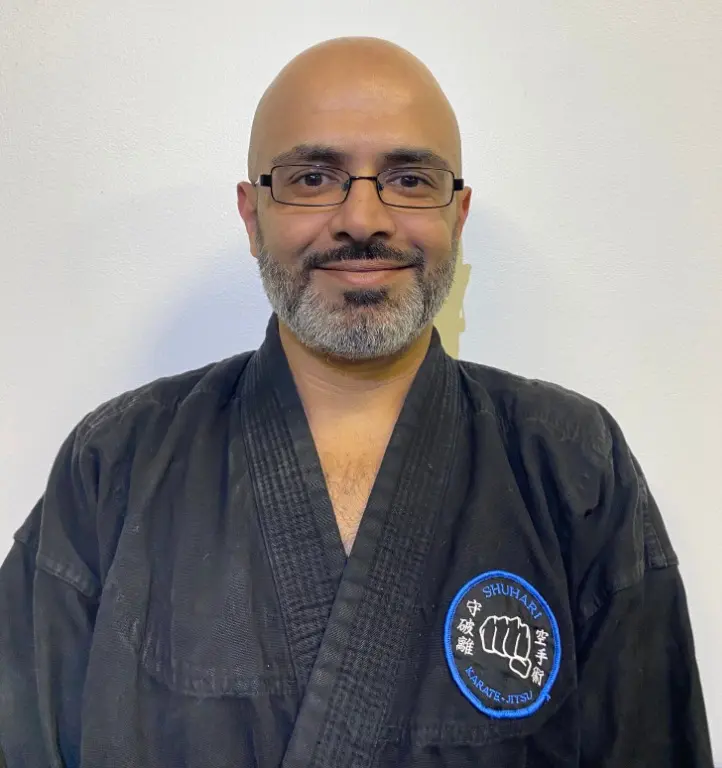 Majid Khalid
Instructor
Favourite Technique
Sune Geri
Favourite Quote
When your temper rises, lower your fists. When your fists rise, lower your temper.
Bio
Majid is a very hard working student. He trains full focus like a champion at all times and has truly strong sparring and pad work. He is currently teaching 5 days a week in our after school martial arts and anti bullying classes we teach in local schools.
John Moses
Instructor
Favourite Technique
Mawashi Geri
Favourite Quote
It's not about being the best. It's about being better than you were yesterday.
Bio
John has the heart of a Lion and he has no fear of testing his limits in training. He has a relentless hunger for learning so he asks a lot of questions. He is a karateka with strong body and spirit and applies himself 100% to all drills and pushes his training partners beyond what they think they can do. He is a true asset to our dojo because of his enthusiasm, focus and commitment. When he is helping other students, he has a gentle tone and he is polite. Even when ill or injured, he is still in the dojo trying to take part in the class.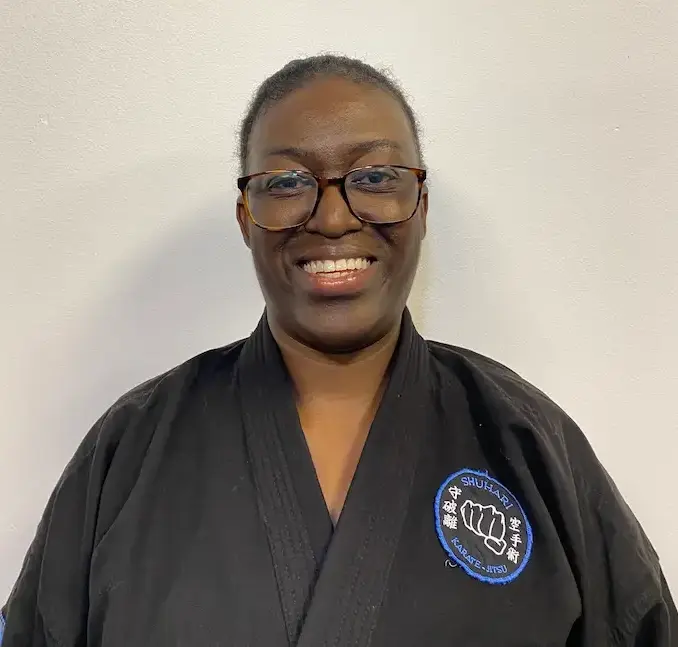 Vuyo Halimana
Assistant Instructor
Favourite Technique
Shuto
Favourite Quote
I have seen further by standing on the shoulders of giants.
Bio
Vuyo is a kind, caring, patient and always upbeat martial artist. She is a lioness with a never quit attitude when sparring, yet exudes positivity, encouragement, humility and generosity, which makes her the perfect blend of being a ray of sunshine and a force to be reckoned with at the same time. She is passionate about teaching people life skills and is a great role model for our students with her physical and character strength. Her tone with kids brings the best out of them and inspires them to develop. In class she is known for bringing a huge variety of exercises to the warm ups, pushing the students a little more every week.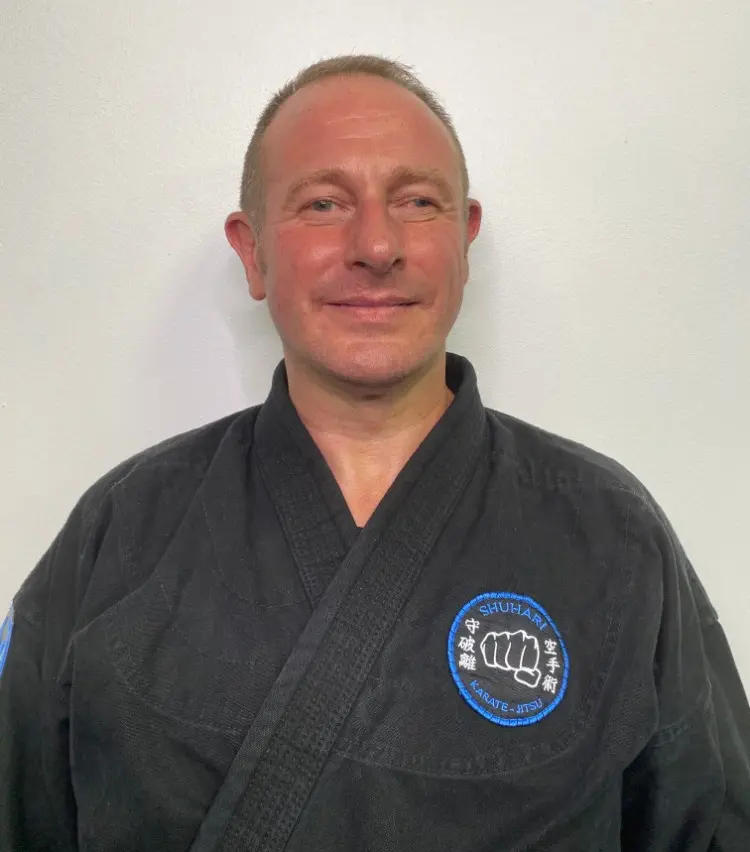 Paul Bardo
Assistant Instructor
Favourite Technique
Chudan Mae Geri Kekomi
Favourite Quote
How can you control your opponent, if you cannot control yourself?
Bio
Paul is a solid karateka who has been dedicated to our club since 2012. He is physically strong and is formidable in sparring. As a perfectionist with great etiquette, he embodies the concept of giving 100% in training. Paul has started his martial arts journey in 1989 and enjoys sharing his knowledge of terminology, philosophy and history of karate with our new students. He is very friendly, easy to approach and has a unique sense of humour. We are lucky to have him in our club because he is our clubs graphic designer, and every student who has ever graded in our system has Pauls design on their grading certificate, which makes him artistically immortal to us.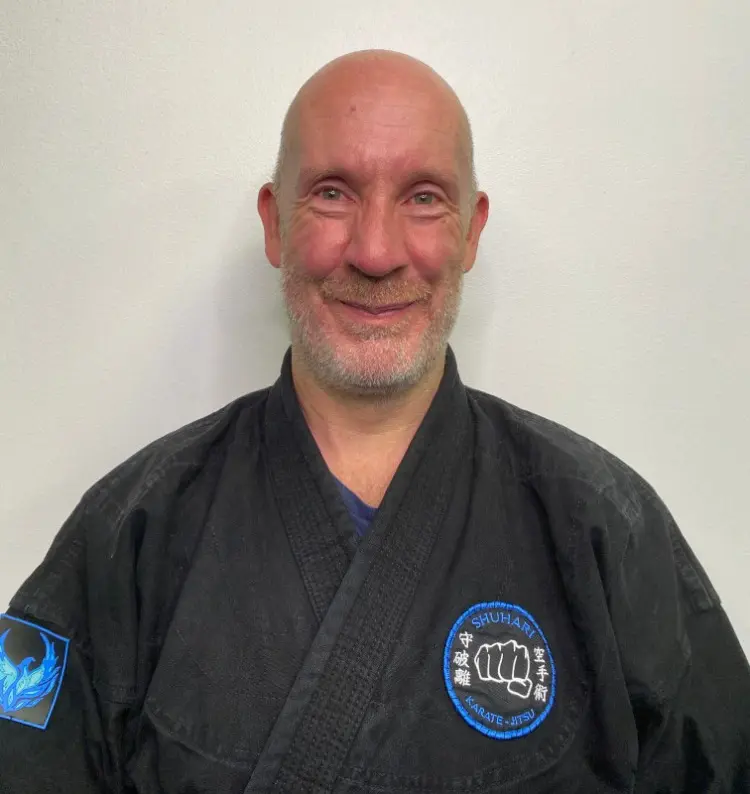 Andy Jones
Assistant Instructor
Favourite Technique
Shita Tsuki
Favourite Quote
You learn more from failure than from success.
Bio
Andy is a calm and friendly martial artist who has experience in Boxing, Muay Thai and Shotokan. He is physically fit, does not give up in kumite and has great enthusiasm and courage. His dojo etiquette is always on point and he is a pleasure to partner up with for drills and he has a lot of patience to help others progress in the dojo. Andy trains with his son Sam in our club and they set a great example to other parents training with their children.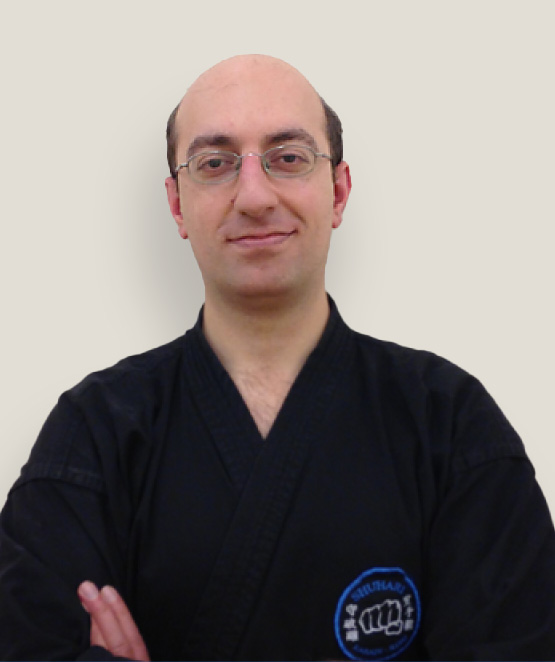 Sandeep Verma
Instructor
Favourite Technique
Yoko Geri
Favourite Quote
A good warrior battles past all obstacles. A great warrior has no obstacles.
Bio
Sandeep is a dedicated student of martial arts and he hasn't missed a class in years. He is fast, accurate, flexible and flowing, hence great to spar against. Body mechanics and nutrition are his main areas of interest. As an assessor, he is tough to please because he has great attention to detail and he expects perfection from his students. As an instructor, he emphasizes the importance of physical fitness and teaches a fast-paced class with epic warm-ups. Prepare to sweat while learning nothing is impossible, you just have to try.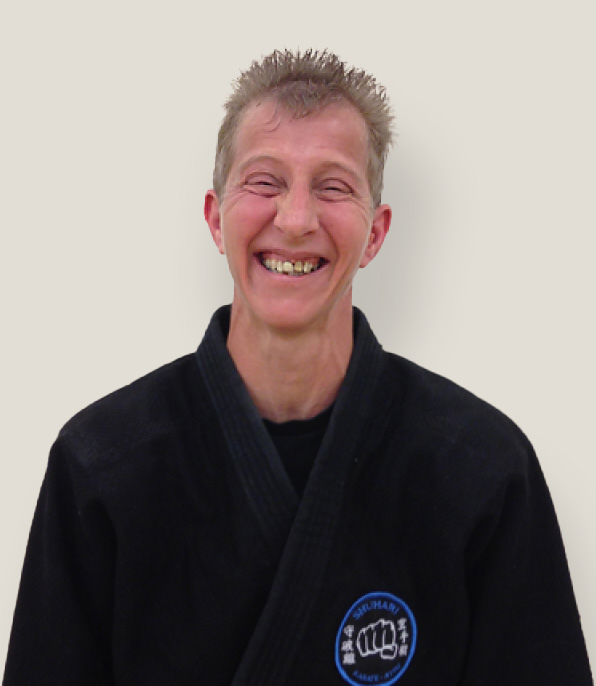 Teresa Vincent
Instructor
Favourite Technique
Mawashi Geri
Favourite Quote
Size is no guarantee of strength.
Bio
Teresa could be summed up as 'still waters run deep'. Her calm, quiet and down-to-earth demeanor hides huge technical knowledge and experience. She has started her training in 1986 with Shotokan Karate and received her first black belt in 1992, which was the year she has won the national championship for sparring. She holds a Nidan in traditional karate and is a very experienced instructor who has been teaching since 1993. She is physically very fit, tough and resilient under pressure. She is also the living proof of 'never underestimate anyone' because she has great physical strength and impact for a person who weighs so little. She teaches a great class technically and physically.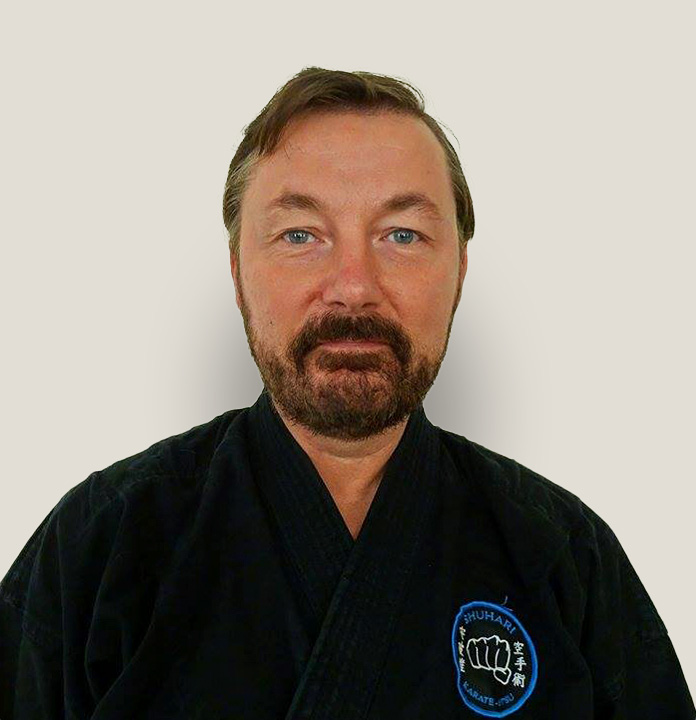 David Baldwin
Instructor
Favourite Technique
Jodan Mawashi Empi
Favourite Quote
I do not know the way to defeat others, but I know the way to gain victory over myself and that is to become better today than yesterday, and better tomorrow than today.
Bio
DJ has been training in martial arts since 1982. Being both a black belt in Karate and a black sash in Kung Fu, he has a strong understanding of striking on all ranges and is very skilled in sparring and close quarters combat drills. He has been a martial arts instructor, a tournament referee and a grading assessor since 2006. He has taught martial arts full time for 8 years. His classes are varied and very interesting which reflects his experience as an instructor. He is a calm, well-mannered, and a warm person and we feel lucky to have him in our club. DJ trains in our Maidenhead dojo with his wife Sarah who is also a black belt student of our club and an experienced instructor.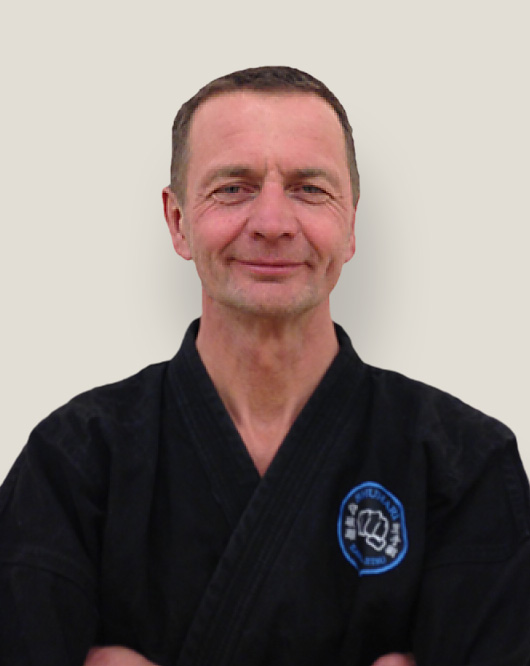 Phil Cooper
Instructor
Favourite Technique
Gyaku Tsuki
Favourite Quote
No pain, no gain.
Bio
Phil is a salt of the earth person who is extremely helpful and caring. He takes a keen interest in each and every student. He has limitless patience and positivity, and can help even the most frustrated student improve their technique. He is the kind of instructor who carries an extra bottle of water in his training bag just in case a student forgets to bring one to class. His classes are very popular, he is physically fit and has strong technique, great etiquette in the dojo, and is always happy. He encourages his students to give their best at every class and he will openly celebrate every milestone and improvement with them. Phil trains with his daughter Jemma and his grandson Alfie in our Langley dojo as a family of 3 generations of karate enthusiasts.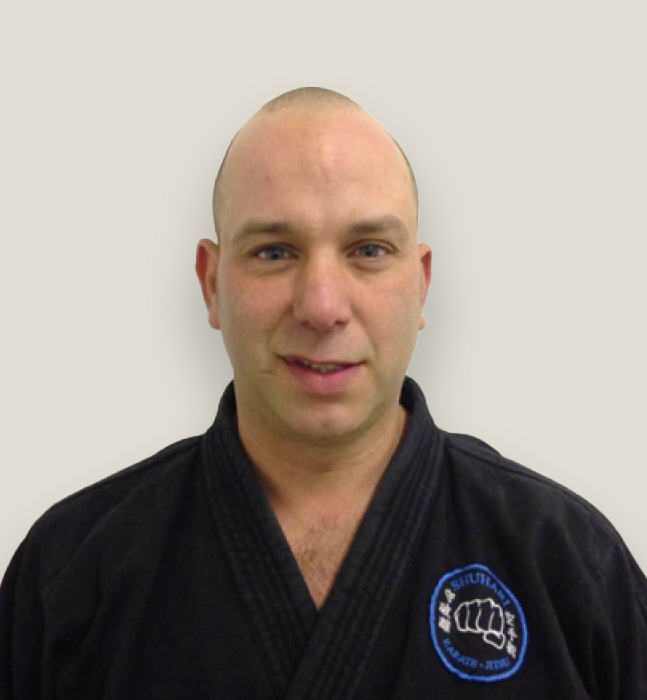 James Holden
Instructor
Favourite Technique
Mawashi Empi
Favourite Quote
Cry in the dojo, laugh in the battlefield.
Bio
James has impeccable dojo etiquette and he is strong as an ox. He is great for partnering up for conditioning drills and sparring since he is heavy-handed. He is a hungry student of the art, so even on the weeks he is ill, he is still in the dojo with his notebook taking notes on the class. Great instructor for both kids and adults. He trains in our Bracknell dojo with his son Billy.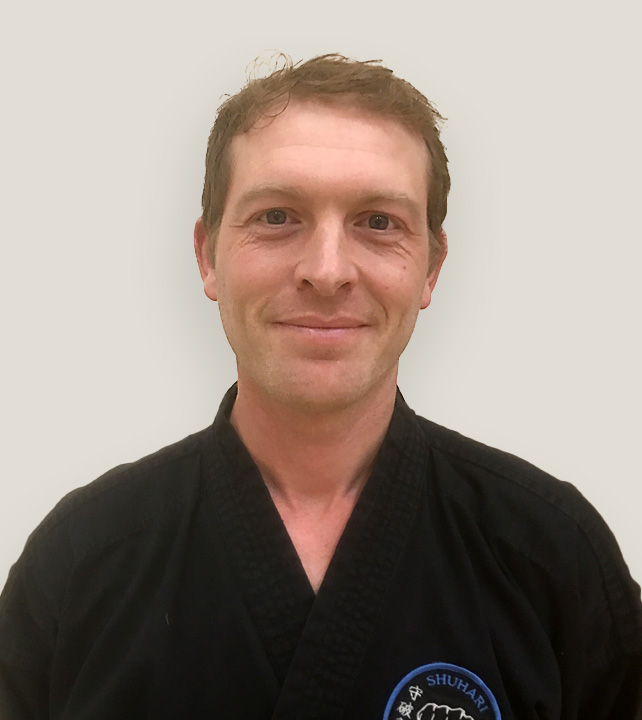 Leon Jones
Instructor
Favourite Technique
Mawashi Geri Jodan
Favourite Quote
Determination, patience and courage are the only things needed to improve any situation.
Bio
Leon is a physically fit, very fast, flowing and skilled student of the art. He is extremely flexible and a very quick learner. He loves kicking a lot, hence it is great to spar against him for developing distancing and timing. His etiquette is very strong, and his attitude towards training is always excellent. He trains with his son Reece in our Bracknell class.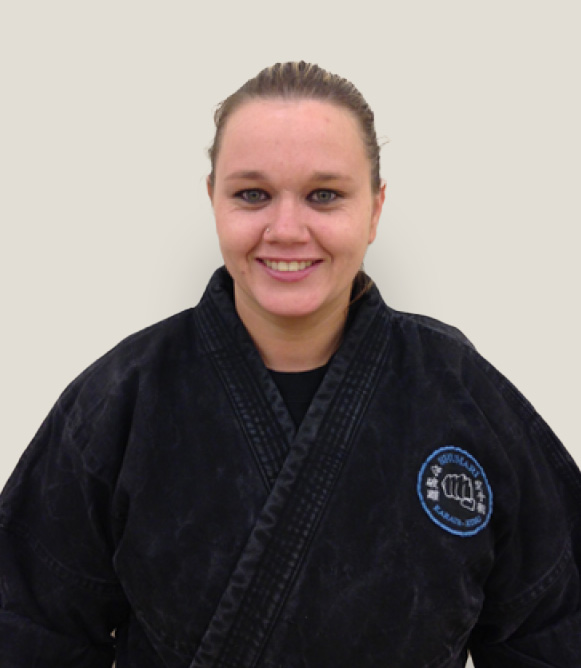 Karen Brooks
Instructor
Favourite Technique
Hiza Geri
Favourite Quote
Martial arts is not just about fighting, but also building character.
Bio
Karen is a true warrior, a very dedicated and resilient karate student with great sparring skill. She has started her training in 1990 and apart from her Shodan in Shuhari, she also holds a brown belt in Shotokan and a Nidan in Gojukai. Being a mother of 5 she is great with kids as an instructor. Her motivational, encouraging, and nurturing personality as a teacher is the reason why she teaches the most well-attended class in our club. She teaches high-paced, energetic classes for all levels of students, and she also bakes lovely cupcakes for her students. Karen's daughter Louise is also a black belt member of the Shuhari family.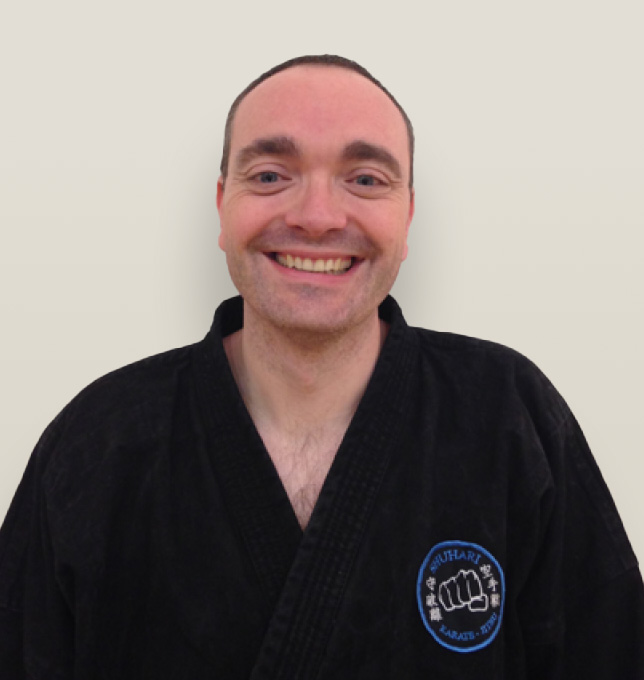 Robert Simmonds
Instructor
Favourite Technique
Mae Geri
Favourite Quote
The effort you put in determines your success.
Bio
Light-hearted and relaxed, Robert is awesome to train with. He has great reach in sparring and he especially enjoys kicking so your timing in sparring will improve greatly when you train with him. He is a very welcoming and friendly instructor who has a great sense of humor and lots of rapport with his students. He takes the time to explain each technique to each and every student.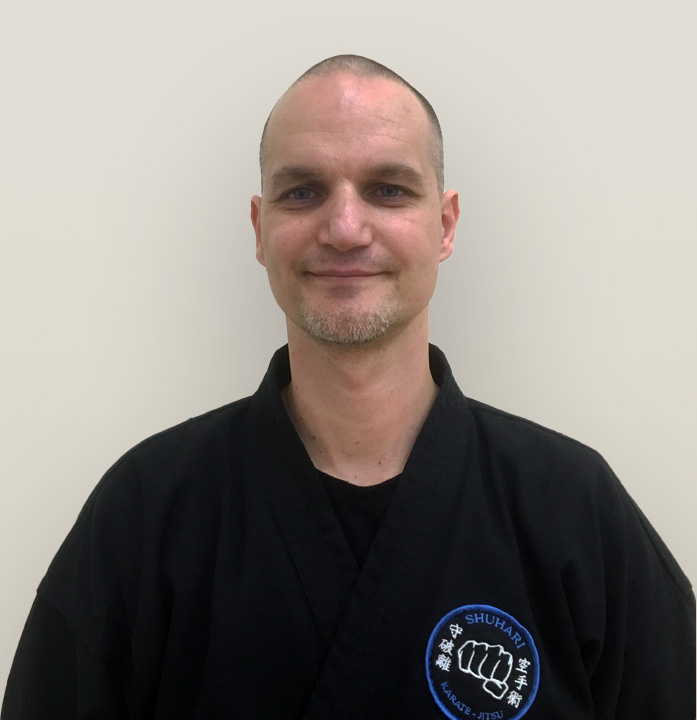 Robert Siedlecki
Instructor
Favourite Technique
Mae Geri
Favourite Quote
Great talents mature slowly.
Bio
Robert has a thirst for martial arts knowledge. Always asking to learn more in detail. He is a very sharp student and is flexible, fast, and strong in sparring. He is extremely enthusiastic about training at all times and his attitude will lift you up when you are training with him.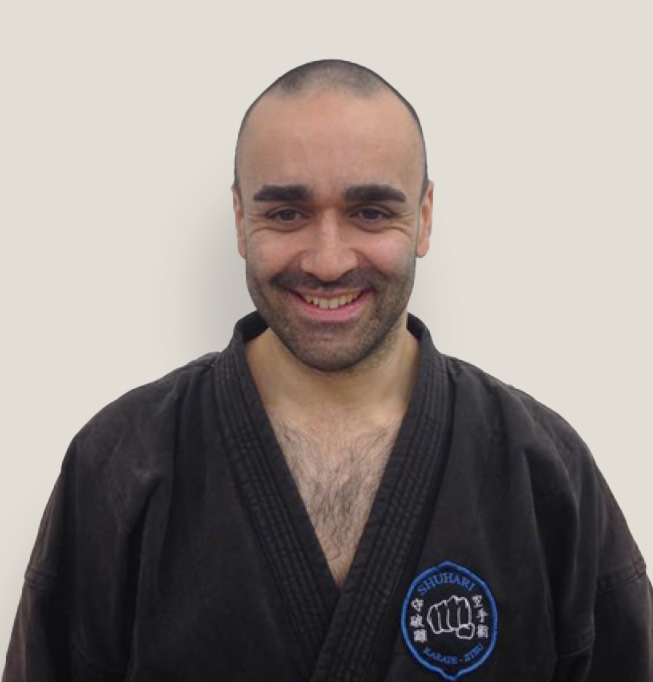 Raj Sobratee
Assistant Instructor
Favourite Technique
Mawashi Tsuki
Favourite Quote
It ain't how hard you hit; its about how hard you can get hit, and keep moving forward.
Bio
Raj is an intense karateka and he lives every basic technique full focus with the sense of urgency of a real-life technique. He loves pad work and impact training. He is also a very enthusiastic student of physical strength training and nutrition. He is an important member of our club since he is one of the earliest supporters of our club and has trained in the first-ever Shuhari Self Defence class. As an instructor, he always takes the time to give feedback individually to the students. Raj trains with his son Josh in our Bracknell dojo.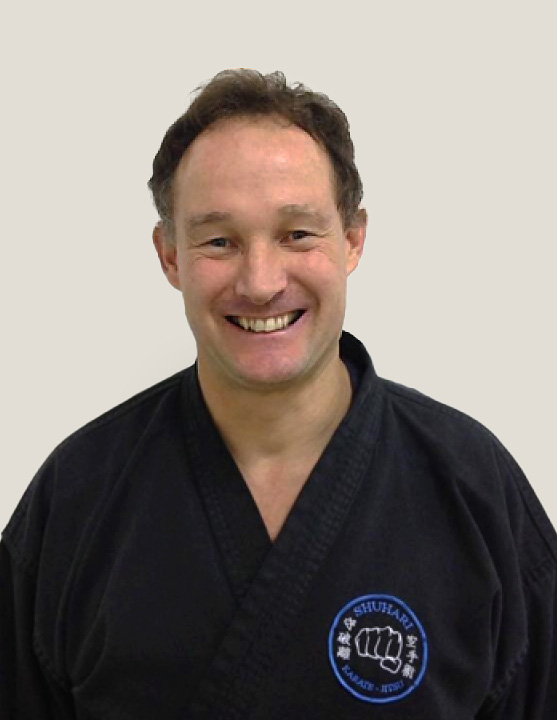 Mark Macaulay
Assistant Instructor
Favourite Technique
Palm block
Favourite Quote
Wisdom is more powerful than weapons, yet one mistake can destroy all the good you have done.
Bio
Mark is a very dedicated and patient person and a very helpful member of our team as he travels from far away every week to help our students in the classes, gradings, and seminars. He is a very positive instructor who takes time to teach basics in detail to beginner students and helps them with their discipline and etiquette. Mark trains in our Slough dojo with his daughter Tina who is a brown belt student of our club.